Romika Shoes and Citytex Footwear: WATERPROOF, Supportive, Orthotic Friendly
Romika Shoes could have come to my rescue last winter, it literally scared my boots. When the difference in daytime highs between EARTh and Mars is eerily close, you know something's not right, call it a polar vortex or RefrigerNation, it's sci-fi weather and it just scares me. We've had a series of breathtakingly beautiful 70-degree days this week, but as dusk comes earlier each night and nighttime temperatures drop to the 40s, I realize fall can't stay but a few more weeks.
Are your feet ready for winter? Are you riding the sidewalk through November sleet and December snow and ice? Have you been looking for a WATERPROOF shoe or boot that doesn't look like your dad's wellington boots or your daughter's rain boots? Do you have foot problems that need support or a removable insole to accommodate an orthotic? Enter the Romika Citytex footwear.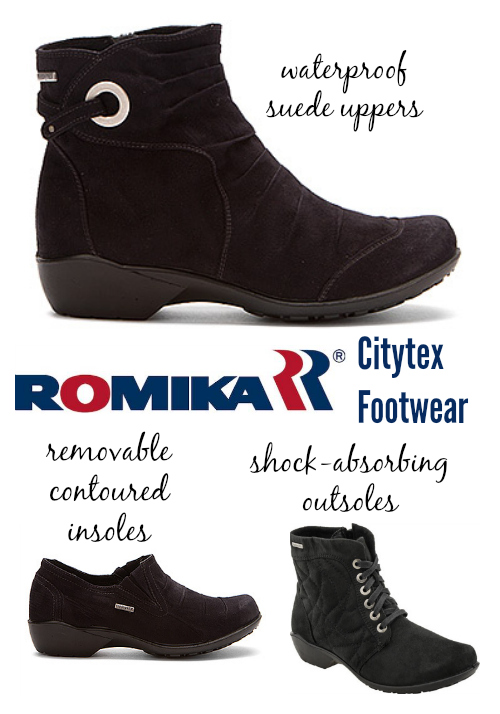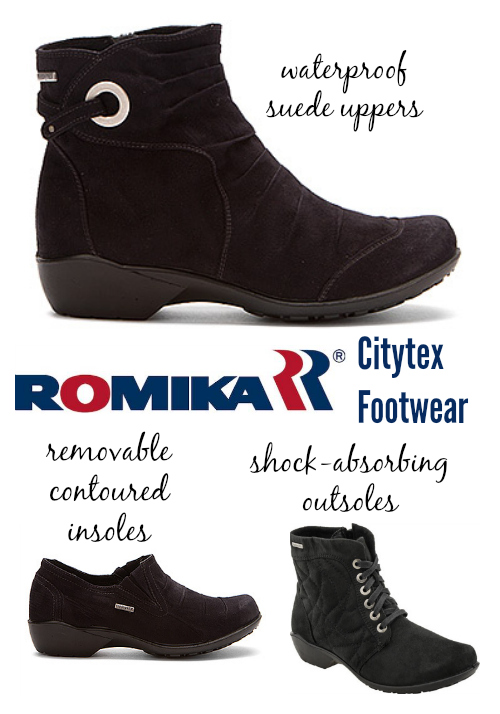 Romika footwear is made in Europe with high-quality materials and each shoe is packed with comfort technologies. Take for example the upper bootie in the photo, the Romika Citytex 121 with TopDry Tex WATERPROOF construction. The TopDry Tex membrane is fully WATERPROOF and windproof with microscopic pores to ensure that perspiration can escape. The insole is removable and the boot is roomy enough to accommodate a personal orthotic. A side zipper allows for easy on and off. Soft Suede upper and linings provide a comfortable, glove-like feel. Best fits a medium to slightly wide foot.
The Romika Citytex 122 shoe (bottom left) has all the same comfort and waterproofing technologies as the 121, but with elastic bands on each side for easy on and off.
We have reviewed other comfortable boots in the past, but now I am really warming up to this brand. Are there other Romika Shoes that you have considered or tried? Do you like this brand? Let us know in the comMents below and stay warm!